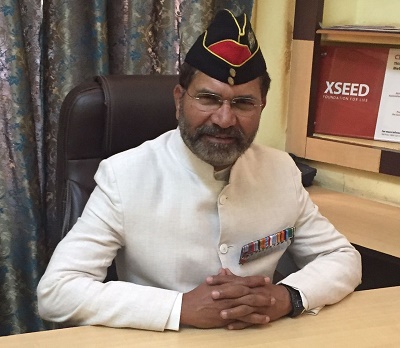 Message From Chairman's Desk
Dear Parents,
It gives me immense pleasure and a great sense of pride, to spearhead the noble mission of transforming Bidar into a better place to live in, through quality education and changing the mindset of people for a better tomorrow.
As we step into the 5th year of operations in pursuit of excellence, we remain committed to create responsible citizens of tomorrow. With an indomitable spirit and ruthless determination, our highly motivated teachers and staff are leaving no stone unturned to make GSA a unique Academy of learning in every aspect.
We believe that education is the basis of all progress. It is for this very reason that we forayed into education, 4 years ago. The initial four years' experience has taught us that making a difference is possible provided one important condition is met. That is, parents should understand the importance of quality education and repose trust in the school to enable them to have freedom of action.
The entire purpose of education is not to restrict itself to imparting bookish knowledge alone. We must inculcate humanitarian values like wisdom, compassion, courage, humility, integrity and reliability in a student, besides focusing on a child's overall development.
We believe in holistic education for your child, encompassing – academics, co-curricular activities, sports, life-skills and personality development. Our endeavour is to strike a balance among these with the major focus being on overall development.
At GSA, we impart education that is based on conscience. We strive to rear a breed of young minds that are bustling with self-confidence, motivation, discipline and ever ready to take up challenges with a 'bounce back attitude'.
The Campus, Sports, Military Ethos, NCC Affiliation, Indoor Shooting Range, Obstacle Course, Hobby Clubs, Academic Facilities, Labs, Summer Camps, Excursions, and visit to Military Establishments. All this bears testimony to our efforts. In order to promote an internationally acceptable education and make the kids critical thinkers, our key focus has been on faculty development – providing continuous teachers' training to deliver value-based education and excellence in academics. Teachers are trained not only on experiential learning but are also expected to inspire confidence and trust in the students by becoming their Role Models. Further, the School inculcates in the students a respect for our rich culture and tradition, besides ensuring discipline and good manners.
GSA encourages students to learn about themselves and be able to adapt to the rapidly changing environment. At the same time, we offer support and guidance as they practice decision-making and social skills.
We are sanguine that GSA is the best place of learning for your child. We welcome your active participation in the progress and activities of your child. We look forward to your continuous support and valuable feedback to make GSA the best school in the HK region in order to provide a bright future to your kids.
Best wishes.
Jai Hind